Eric Arthur Blair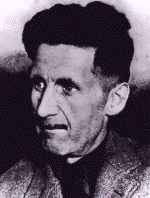 Eric Arthur Blair, certainly left his mark on our linguistic and literal history 'Orwellian' 'Big Brother' etc. On this day 55 years ago, the writer,
George Orwell
, died after a three-year battle against
tuberculosis
Today the ancient disease, once referred to as the white plague, is killing more people today than ever before, and it is on the rise in London. The number of cases in the capital has been rising since the mid-1980s. Of all the cases diagnosed in England and Wales, over 40 per cent are in the capital.
The Fight Against The White Plague